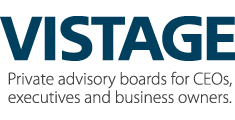 Wish you could tap into today's brightest business minds? Please join our friend Vicki Briggs for an exclusive private advisory board forum: Monday, February 29, 2016 (4 p.m. - 6 p.m.)

At this event, you will have the opportunity to experience how a Vistage Peer Advisory Board can help you evaluate opportunities, gain new perspectives and discover a renewed sense of direction.

What is a Vistage Private Advisory Board? A Vistage Advisory Board starts with the premise that none of us is as smart as all of us. However, put our minds together and there isn't a business challenge we can't overcome. Like you, Vistage members are proven business leaders and critical thinkers. They have smart ideas and insightful opinions, and this is the forum to express them.

Vicki is inviting you to join other leading local executives for an exclusive gathering to learn how Vistage can help you tackle some of today's most challenging business issues. Vistage offers a unique combination of resources for accelerating business performance by creating better leaders who make better decisions and who achieve better results!

The speaker, well we like him too: Sean Doyle is a leading consultant to CEOs & executive leadership on sales & marketing strategies. He will be delivering a talk, "Why You Need a Working Sales and Marketing Framework" with the promise of your taking home, at least, one idea that will be profitable for your business.

In this interactive workshop, Sean helps executives find new revenue and create alignment around the sales and marketing operations, through data-based and process-driven leadership.

To find out more about this meeting, click here.