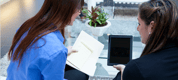 Mobile marketing. It's a tricky world in that it looks easy and is accessible to everyone. I roll my eyes when I see the internet marketing ads that promise a small company it can just built a simple website and buy ad words with success chasing on its heels. Yes, it is a powerful tool. No, it's not easy as just buying some ads and keyword terms. Same goes for Linked in ads: Easy to buy. Not easy to get results.
Hiring the right partner is also relatively simple in theory, less so in practice. Ask a firm or person who you think might be able to help you to send one thing, a report.You need to see how...
You need to see howover time this firm has helped others by building traffic, converting leads from this traffic, and converting these leads to an exchange relationship-customers. We are seeing over ½ of our client's traffic coming from mobile devices. Times keep changing.
The report any potential partner offers you should be generated from two types of tools. First, an Inbound Marketing Management tool and second, a CRM system that inbound tool marries into. Ask what tools they are used to using and decide if these are a fit for you. Note that many tools exist. (I often encourage people to explore Hub Spot for inbound tools and Salesforce.com for a CRM application. It's what I use at work.)
Back to the high-level view. The answer. The way to set up and manage any internet-based marketing and sales support program is always TLC. If you learn TLC then you can manage any level of internet marketing and sales—$1 to $100MM, it's all the same at its core principle.
No, not an Elvis-like Tender Lovin' Care. (If you are stuck humming Elvis tunes the rest of the day, I cannot be held liable.) The T is traffic, the L is leads, and the C is for customers.
The key metric: conversions. How much traffic became leads, how many leads became customers. To know what you should expect your conversion rates to be, you will need to consider too many factors to cover here. Work with your VP of sales, look to Hub Spot for data or send me an email.)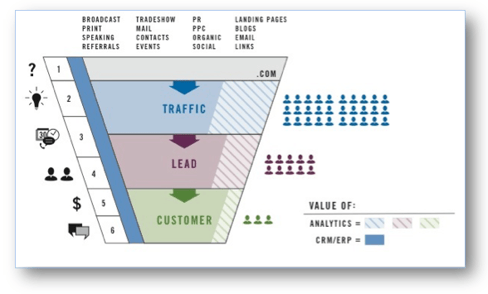 This chart is the management mindset in one snapshot. Feel free to download the image and use it.
Mobile needs dedicated thinking and learning. So most pressing is the change that Google tossed to us recently. On April 21st, Google released a new mobile-friendly change to their algorithm. In short, it will potentially give a ranking boost to mobile-friendly pages in Google's mobile search results. If your site isn't optimize for mobile devices, the new algorithm could cost you valuable SEO and search engine marketing dollars — or worse, potential customers and clients.
This coming Wednesday we are holding a Webinar to help our clients and friends on the changes and what it means to you. Most importantly, how to generate leads.
Andrea Walker, FitzMartin's Director of Digital Marketing, will present a brief overview of the new Google mobile-friendly update and how you can test to see if your site passes "mobile muster" so to speak.
Come on, join us.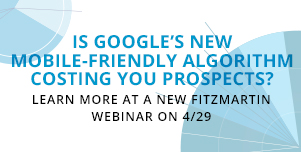 Learn more: http://info.fitzmartin.com/mobilemarketing