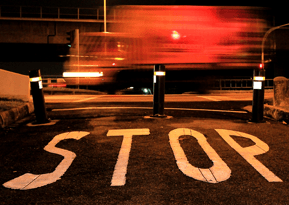 The lazy way out, buying ads and in turn traffic, is dying. The Wall Street Journal broke the story that Apple might disrupt the $70,000,000 (billion) mobile ad market last week. This points to the end of "Easy Street"...or at least the path is becoming more slippery. It's time to shift your spending and thinking. Here's why I can be so confident.
The CMO Club a group of the world's top marketers recently produced "Marketing is a (Buyer) Journey, Not a Destination." The club, in partnership with IBM, conducted research featuring 100 leading members and the perspectives of eight marketing executives from companies including Wells Fargo, Bally, Ticketmaster, Valspar, CNO Financial, medCPU and Goddard Schools.
Regarding this report Kate Maddox in AdAge stated: (emphasis mine)
"57% of CMOs plan to boost marketing budgets over the next two to three years.
Content development will make up the largest portion of the marketing budget (13.3%),
followed by traditional advertising (11.5%), the study found.
Other top areas of investment will be online advertising (11.1%),
events (10.9%),
website development (10.5%)
and public relations (9.6%)."
http://adage.com/article/btob/cmos-spending-content-buying-cycle/300181/
I found this to be a helpful guide to our clients and me. Budgeting is always a difficult process. Seeing what the worlds largest are investing in points the path, perhaps, to safety. Not of course that numbers always follow the correct path...but it is still worth noting. The risk these marketers take is backed by sophisticated thinking, math, research and more testing than most of us in the small to midsized business world can afford.
"Content is king." You have heard this adage most likely but do you follow it? Very few do. Before now it's been harder to understand why. The gap between what we know and what we do is often a chasm not a crack. It's time to shift. Why, because the lazy way out, buying ads and traffic is dying. The Wall Street Journal cracked the story last week that shows the end of the tunnel...or at least the path becoming more slippery.
"Apple Inc.'s move to make it easier to block ads on iPhones and iPads is troubling publishers and heightening tensions with its Silicon Valley neighbors. Putting such "ad blockers" within reach of hundreds of millions of iPhone and iPad users threatens to disrupt the $70 billion annual mobile-marketing business, where many publishers and tech firms hope to generate far more revenue from a growing mobile audience. If fewer users see ads, publishers—and other players such as ad networks—will reap less revenue." http://www.wsj.com/articles/apples-ad-blockers-raise-tensions-1440974849
Do you see the connection? Your ads are going to be blocked...the path to your offering on the internet will be more and more driven by organic search. You can't just buy it anymore. These are stark predictions and no, it will not be a black and white change. Truth will be in the middle and truth will be that you need to invest in content the way you used to invest in advertising.
I guide clients to craft content plans and steady diets of content in the format of thought leadership, page content, videos and other tools that impact organic search. You should think about this as well.
If you want some help looking at your site give us a shout, tell us that you read this blog post and want a brief look under the hood. We might even be able to pull up your website and tell you on the spot. If not, we can set a brief phone appointment to share initial direction. No fee, just help.
The customer decision journey is riddled with barriers to closing a deal. This is a simple place to start. Correct, it's not easy, but it is simple.