Note: We recently posted a new episode of our podcast, Aligned. In it, we talk about the idea of Emotional Contribution as a third component of the Value Triad. I invite you to check it out.
As sales professionals, we are well acquainted with selling value. This typically shows up in our presentation in one of two ways. We can demonstrate how our product or service will help you increase revenue. Or we can demonstrate how our product or service can help you lower your costs. More sales or lower costs, those are our two biggest levers to pull to motivate a prospect.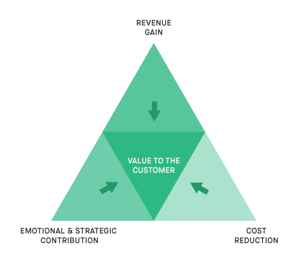 But there is a third equally powerful lever, part of the value triad, that too few salespeople understand. We call it Emotional Contribution. One reason emotion is overlooked in the sales process is that it's harder to quantify. Understanding Emotional Contribution, though, can give you a powerful differentiator in competitive situations.
What does Emotional Contribution look like? Well, it can take many forms. One of our clients leveraged the idea of safety/reassurance by offering the most comprehensive extended warranty in their product category. It was a big deal because their products are designed to sit exposed to the elements in the West-Texas desert; their warranty even covers damage from lightning strikes. The concept of an extended warranty in their market was something that people in the industry thought impossible. But the added safety that the warranty provides became a massive advantage for our client.
Again, we invite you to listen to the complete episode of Aligned and maybe the ideas it sparks will have an equally profound impact on your sales.