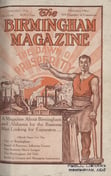 Today, the B2B buying cycle is search-driven, socially empowered and buyer-controlled. Bam!
This needs to be on the wall in everyone's office. The path to business prosperity is paved with leads, communication and content. "The Business Man Looking for Expansion", as noted by the Chamber of Commerce in 1916, must be looking!
What's new is the medium—linkedin-instagram-twitter-facebook-pinterest—not the activity of making connections, sharing ideas, looking and finding solutions by asking friends and associates.
The exception to the rule is found in the typically stated problem. Personal interest. I often hear, "social media is nonsense. It's just people talking about nonsense that no one cares about. Waste of time." I might offer that the magazine industry has the same trouble. Thousands of magazines with content that is just a waste of time. Trade shows are the same, sales calls the same, TV the same. Get the point? I agree that having helpful and relevant content is critical. That's why a few magazines and a few TV shows and a few trade shows are worth your time, and you give it willingly.
"the B2B buying cycle
is search-driven,
socially empowered and
buyer-controlled. BAM!"
A strategy and econ lesson is found here: Markets don't spend much time in equilibrium (or they don't quite get there) before something disruptive happens—a change in technology, consumer preferences, etc. From that equilibrium emerges new niche players on a smaller scale. Two examples: Garden & Gun magazine and craft beer.
In the aggregate, magazines are useless (when looked at in the big picture of thousands of magazines). The big 'zines are hurting for eyeballs: Newsweek, Time, etc. But publications like Garden & Gun are thriving because they have unique voices and interesting subjects that appeal to fascinated readers.
Big beer: Watered down and bland so that it appeals to all palates (inoffensive to no one, and consequently appealing to no one). Enter changes in technology and law that allow brewers to produce and market craft beer. A culture that values experimentation with different recipes and authenticity. Even if the big brewers wanted to acquire all these folks, they couldn't do it fast enough. They're only acquiring the vats and brands—but not the culture!
There are discrete pockets of opportunity within social media. From what I gather, the consensus is that SMB's have to make time to tell stories and create experiences worthy of those stories. I would suggest that good marketing creates good consumer experience in surplus through significance, expertise and so on. From that come stories—and they come organically, not from agency copywriters.
In Practice—Start Getting Social
If you're new to social media, you have two homework assignments. If you are involved with social media, skip this:
Get on LinkedIn, Facebook and Twitter. Open accounts and just start! Today. You'll find step-by-step instructions on each of these platforms to teach you how to begin.
Listen. That's it. Seriously. Listen. It's a great way to start learning the value of social. Don't worry about posting or writing or shooting photos. Just listen, search, explore, watch/follow your competitors. You will learn a lot in just a few months.
If you are a social user, then you have two assignments.
Remember that the goal of social is to drive traffic, the goal of traffic is to capture leads, the goal of leads is to convert to customers. Measure traffic, leads, customers and each conversation rate. Now when someone asks you, "why do you do social media at your office?" you say: traffic/leads/customers.
Assign one person on your team who will be responsible to know and do all things social for your company. Then teach them: traffic/leads/customers. Measure, rise, repeat. Not everything they do will work, and that's OK. Do.
The image was provided by: Birmingham Public Library