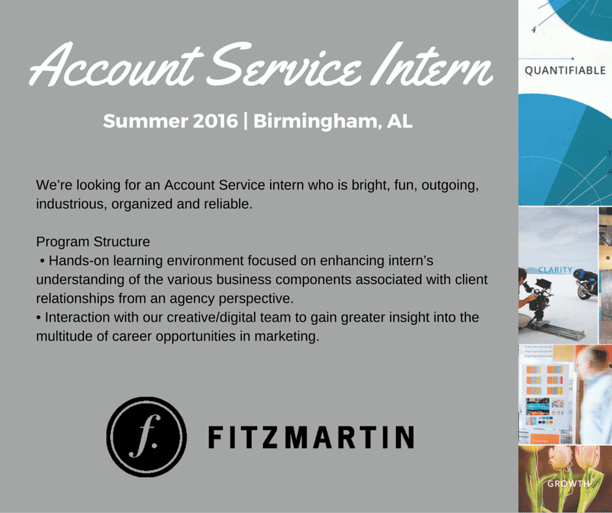 Position Title: Account Service Intern, Summer 2016
Position Type: Internship
Location: Birmingham, AL
Salary: Paid, Non-Exempt, Temporary
Hours: 25 hours minimum availability is required (M-F, between 8-5pm)
Contact: Anna Svarney (anna@fitzmartin.com). Please send a resume and a one-page cover letter, along with start-end dates and weekly availability to anna@fitzmartin.com. In your cover letter, please give us two reasons why you're perfect for this job and two reasons why this job is perfect for you.
Job description
The FitzMartin Internship Program is designed to give college juniors and seniors "real-world, hands-on" experience working in a marketing firm that coincides with participating schools' internship requirements. Selected candidates will work in the office environment and function as a part of the account management team. At the conclusion of the internship period, FitzMartin will provide interns with any/all necessary written confirmation and evaluation of time spent on board.
Program Structure
Hands-on learning environment focused on enhancing intern's understanding of the various business components associated with client relationships from an agency perspective.
Interaction with our creative/digital team to gain greater insight into the multitude of career opportunities in marketing.
Our account executives are the bridge between our clients and our team. They are a vital part of how we work together and serve our clients. We're looking for an Account Service intern who is bright, fun, outgoing, industrious, organized and reliable.
This is a fast-paced role that will give you an opportunity to work with fun people to solve challenging marketing problems. As a result, you will learn a lot and grow professionally!
We're Looking for Someone To:
Assist with management of the day-to-day activities of all client accounts. You will help bring traditional and digital marketing projects to fruition!
Keep tabs on project statuses while following through on daily account services tasks. Our AE's make every effort to ensure that our work is done well, on time and on budget. In doing so, you'll get to collaborate with our Production Manager and creative team.
Work with the Account Management team to develop initial creative briefs and curate them from internal review to client approval.
Write and distribute contact reports following all internal and client meetings.
Participate in developing agency recommendations and points of view for client presentations. We'll lean on you to make sure that our thinking and our work is rooted in the right information (consumer data, research findings, etc.).
We'd Like for You to Have
Completed at least 2 years in a degree-seeking program at an accredited institution of higher learning, ideally focused on marketing and communications – or a very recent graduate of one such program.
Digital marketing and social media acumen is a huge plus! You'll really get our attention if you have working knowledge of Google AdWords, Google Analytics, social media platforms and marketing automation technologies (particularly HubSpot).
Excellent verbal and written communication skills.
A knack for detail and a healthy addiction to listening well.
The ability to manage multiple projects and timelines.
A passion for learning new things about marketing, business challenges, project management, behavioral psychology and design.
About FitzMartin
For 25 years, we've applied the science of behavioral psychology and the art of design to catalyze growth for our clients. We help our clients solve marketing and sales problems through four types of engagements: sales process consulting, marketing advisory services, data-driven digital marketing and design. Our clients include great brands like BBVA/Compass, Avadian Credit Union, Community & Southern Bank, Auburn University-Montgomery, Tazikis Mediterranean Café and SPOC Automation (just to name a few).
About Birmingham
Birmingham has quickly become one of the most loveable and livable cities in the country. We have a top-notch restaurant scene, world-class art, film and music festivals and more park space (per capita) than anywhere else. You'll have access to great cultural amenities and interesting people without the hassle (and cost) of big city living.