Aristotle and Good Copywriting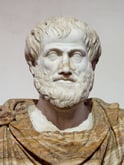 So, does good writing sell?
In the world of business-to-business marketing, in particular complex industries like financial services, the short answer is of course yes. In fact, good writing sells exponentially more than poor or mediocre writing. But what is good writing?
Above all else, good writing is compelling. The trick is that there are an almost limitless number of ways to compel people to action. One sound way to prepare your argument follows the ancient science of rhetoric. It's amazing that after thousands of years, the basic principles that Aristotle defined still apply to your business.